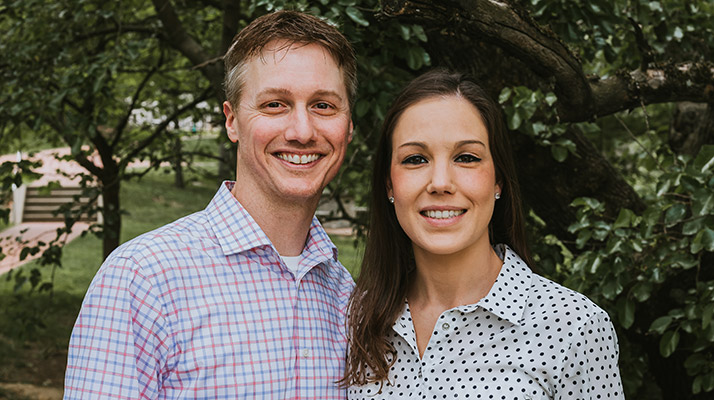 Chiropractor
Andrew Pitcher D.C.
Dr. Andrew Pitcher graduated from Logan College of Chiropractic in the spring of 2013. He is a licensed and board-certified chiropractor. Dr. Pitcher has a wide variety of techniques that he utilizes with his patients, depending on their needs. He started his career as an associate working alongside Dr. Fox for four years. When given the opportunity, Dr. Pitcher and his wife took over the practice in 2018, and are fully dedicated to improving the well-being of their patients.
With his commitment to better the health of his patients, Dr. Pitcher has continued to work hard and dedicate his time to improve the functions of the human frame. He loves learning new research and educating his patients on the importance of chiropractic care and overall healthy living through mind, body, and spirit. Dr. Pitcher treats patients of all ages, ranging from newborns to seniors. He believes what created the body, will heal the body.
Outside the office, Dr. Pitcher enjoys spending time with family and friends, being outside, going to concerts and festivals, traveling, grilling, and yelling at the television when IU is playing.
Chiropractor
Crystal Gray D.C.
Dr. Crystal Gray obtained a Bachelor of Science degree in Biology from the University of Wisconsin-La Crosse in 2009. She went on to further her education at Logan University in St. Louis, MO where she received a Doctor of Chiropractic and a Bachelor of Science degree in Human Biology in 2015. She is a licensed and board-certified chiropractor, who is certified in several adjusting techniques.
Physiotherapy, and soft tissue manipulation including Active Release Technique (ART) and Functional and Kinetic Treatment with Rehab (FAKTR).
Dr. Crystal Gray started her career as an associate doctor working alongside Dr. Fox. In 2018, Dr. Gray and her husband transitioned into ownership and are committed to the overall health and well-being of their patients.
Dr. Crystal Gray grew up in a small rural community in central Wisconsin. Growing up, she had a very active childhood and enjoyed playing sports, boating, skiing, wakeboarding, and snowboarding. That continued as she was involved in 5K's and half-marathons, coached girls basketball, involved in her church, and volunteered in her community.
She first became interested in chiropractic while interning for a chiropractor during her undergraduate studies. Not long after, she was involved in a car accident. As chiropractic care was introduced into her life, she was astonished with the results. She was not only able to live pain-free, but her overall function and well-being had improved. Most importantly, she was able to enjoy all the things she used to. After experiencing chiropractic firsthand, she knew her purpose in life was to help others heal naturally, the same way she had been. She is committed to helping her patients understand how chiropractic works, provide individualized education, customize nutritional recommendations, and most importantly achieve wellness. Dr. Crystal Gray treats patients from infancy to the seniors, with a focus on migraine and headaches, sinus and allergies, prenatal care, and pediatrics.
Chiropractic Assistant
Dianna, C.A.
Dianna has been working as a Chiropractic Assistant at A Way of Wellness Chiropractic since March 2021. She receives chiropractic care and enjoys the benefits of it. Dianna was born in Indiana, but grew up in multiple different states as a military kid. Her favorite place that she has lived was Alaska. She absolutely loved the wildlife, scenery, and the adventure that went along with it all.
She is recently married and has one daughter who she enjoys spending time with. Her favorite hobbies are cooking, crafting, and learning about history. Since elementary school Dianna has played the viola and piano. She has competed in music contests across the state. In high school, Dianna played 1st chair viola with the Bloomington Symphony two years in a row.
Chiropractic Assistant
Karen, C.A.
Karen has been working as a Chiropractic Assistant at A Way of Wellness Chiropractic since September 2022. She has been receiving chiropractic care for over four years now and has had a reduction in pain and improvements in overall wellness. Karen was born and raised in Indiana and has lived in both central and southern Indiana.
She moved to Bloomington ten years ago and has fallen in love with the area and community. Karen has been married for fifteen years and with the marriage, gained two bonus children. She loves spending time with family and friends as well as snuggling with her 110-pound German Shepard. She loves helping people and seeing them reach their goals.
OFFICE HOURS
---
Monday
8:00am - 12:00pm
2:00pm - 6:00pm
---
Tuesday
8:00am - 12:00pm
2:00pm - 6:00pm
---
Wednesday
8:00am - 12:00pm
2:00pm - 6:00pm
---
Thursday
8:00am - 12:00pm
2:00pm - 6:00pm
---
Friday
Closed
---
Saturday
Closed
---
Sunday
Closed
A Way of Wellness Chiropractic